Description
What is upgraded for Grunn's i10-Laserbot Robotic Vacuum Cleaner?
i10-Laserbot is built with the newest laser light detection and ranging sensors (LIDAR+) to navigate and map. Equipped with very precise navigation accuracy, it ensures full coverage of the cleaning areas. Once the cleaning area is mapped out, the map will be stored permanently in the Wifi app, which will enable the robot to follow the exact same cleaning path during each operation. The upgraded Wifi app is designed to allow users to save the map, select desired cleaning area and create partition to prevent the robot from moving into a restricted area.
With an in-built function of Last Location Memory, our i10-Laserbot is able to remember the last location it stopped during cleaning, if the previous cleaning path was not yet completed. It continues cleaning from that same area and progresses to the other uncleaned areas, so it does not have to re-start all over again.
An upgraded battery of 5200mAh Lithium Ion maximizes cleaning range, operating duration (160-180mins) and battery lifespan. In-built with a 2800pa Ultra Brushless DC Motor (BLDC), it generates an ultra powerful cyclonic suction power, the roller brush picking up even the finest dust on floors and carpets for very thorough cleaning.
Users have an option to purchase our Dirt Disposal Station which allows the robot to automatically dispose dirt and dust into the station. The Dirt Disposal Station comes with a reusable cloth dustbag.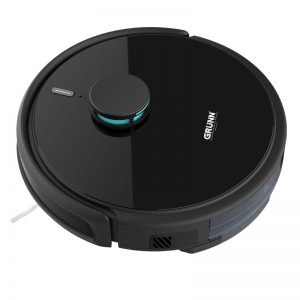 Features and Specifications
– Laser Light Detection and Ranging Sensors (LIDAR+) Navigation Mapping System
-Ultra Brushless DC Motor (BLDC) Provides Powerful Cyclonic Suction Power With Extended Lifespan
– Built-In Wifi App with Real Time Movement Route Tracking
– Cleaning path is permanently stored in the Wifi app
-Allows users to customise designated / restricted cleaning areas in the app
-Last Location Memory: Able to start cleaning from the area it last stopped if cleaning was not yet completed
– Magnetic strip as a barrier to prevent the robot from accessing certain places
– Rotating brush suction Inlet to improve cleaning effectiveness
– Electric Pump Wet Water Mopping Tank – 230ml (Please do not add chemical / detergent into the water tank)
– Daily scheduling function
– Upgraded 5200mah Lithium Ion Battery
– Average 3 hours Operation Time
– Average 4 – 5 Hours Charging Time
– 9.6 cm Height Limit
– Front Bionic Sensor with Sensitive Bumper
– Suction Power: 2800Pa
– Warranty: 1 year on electrical components, 6 months on battery
Accessories in box
1 x dust tank
1 x mopping tank
4 x spinning brushes
1 set of charging adapter and docking station
2 x mopping cloths
1 x hepa filter
1 x cleaning brush
1 x remote control
1 x magnetic strip
1 x user manual & warranty card