Description
SIMPLIFY YOUR HOUSEWORK, LIVE HAPPIER! 
Mopping has Never Been Easier & Cleaner until Now!
Suitable with all types of  Cleaning Liquid / Waxing Oil including Dettol
Why is Grunn's Wireless Magic Mop Special?
Grunn M2-MagicMop makes your cleaning and mopping much easier!
It is a rechargeable mop with the newest reciprocal vibrations equipped with sprinklers which sprays the liquid to moisturize the floor evenly.
The reciprocating cleaning pads can conveniently and efficiently clean all kinds of tile, marble, wood and other flooring materials.
Together with special selected cleaning pads, your daily cleaning and maintenance work on floors will be easier and more efficient.
Battery: 2000mAh Li-Ion
Working Time: Est 50mins
Charging Time: Est 3 Hours Rated
Power: <35W
Working Voltage: 12.6V
Water Tank: 230ml
Machine Height: 86mm
Total Height: 1180mm

What's in the box?
Main Set (Handle Control, Body and Base) x 1
 Blue Thick Fibre Mopping Cloth x 1 Pair
Singapore Safety Mark Adapter x 1
Measuring Cup x 1
User Manual & Warranty Card x 1
Types of Mopping Pads

1) Microfibre Mopping Pads (Standard in box) (Washable)
Good to remove dirt / foot prints / oil / syrup
Strong Water Absorbant
Smooth and Easy to Manouveur
Better Decontamination
Extremely Easy to Wash
Super Durable and Long Lasting
Suitable for all types of Hard Flooring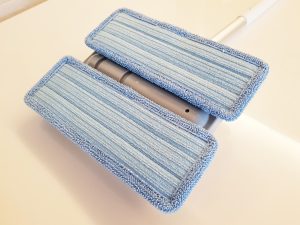 2) Looped Mopping Pads (Optional) (Washable)
Electrostatic Interaction with Floor to Pick Up Hairs
Wet and Dry Cleaning
Good to remove hairs / dust / dirt / foot prints / oil / syrup
Super Wide Size for Max Cleaning Efficiency
Super Durable and Long Lasting
Suitable for all types of Hard Flooring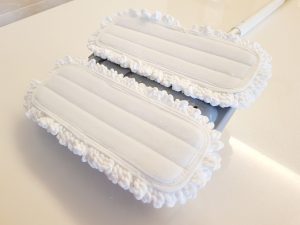 3) Waxing Pads (Optional) (Washable)
Suitable for all kinds of waxing oil
Smooth and Easy to Manouveur
Very precise spread of waxing oils
Extremely Easy to Wash
Super Durable and Long Lasting
Suitable for all types of Hard Flooring